Yesterday, our community went around Taal Lake visiting in turn the Lipa Cathedral, the Carmel of Lipa, the Cathedral of Taal. The Lipa Cathedral (San Sebastian) and the Taal Cathedral were both built by the Augustinians. The present form of both churches date back to the 1800s although the foundation of Taal Cathedral (San Nicolas) dates back to 1575, just ten years after the Augustinians landed on Philippine shores.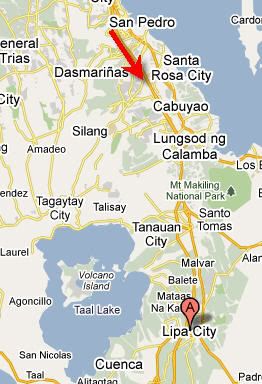 It was raining when we made our way to Lipa City reaching it after an hour's ride. By then the sun was already shining and there were a lot of people on the cathedral ground. This is in sharp contrast to the Iglesya ni Cristo Church just some meters away which was empty. After a few minutes at the Cathedral, we went looking for the Carmel of Lipa which was the site of a miracle of roses some years ago. It is said that the Vatican is reviewing its case. Then from Carmel we proceeded to Taal and the massive stone Church that used to be the largest in Southeast Asia.
The Taal Cathedral is one massive edifice. It is one of the churches that the Augustinians left to the diocesan clergy in the 1900s. The Augustinians held on to their parish churches until that time, the last of the friars to accede to secularization. One of the main reasons for this was the 1898 Revolution.
More pictures are available at the Gallery.