Today, AgustinongPinoy turns eleven years old. Nothing much has been added to this website but its subsites have been growing. The Bible Workshop, the site I maintain as a resource site for BEC cell leaders has been gaining quite a large audience since last year. Below is a screenshot of the hits and visits statistics of the site (August 27, 2010)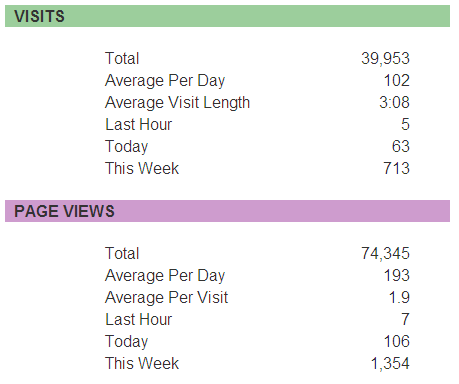 The Mystical Geek has taken the place of this website for articles relating to what I've been doing in my current assignment. It is also the place where I review and update articles from the past. I haven't been regular in posting articles here since my time is taken up by the Bible Workshop and Res Biblica. What I was doing with Otium Sanctum before is continued at Res Biblica. During this past year, I've been posting more articles at the Bible Workshop and Res Biblica more than in any sub-site.
Some acquaintances have been asking me about my HTML tutorials. They are now at the Collectanea, a collection of the HTML tutorials I wrote during the period 2000-2004 while I was trying to maintain the school website originally hosted at http://geocities.com/agilawan
AgustinongPinoy lost some of its sections due to the changes in the web during recent years. One of these changes was the demise of Geocities, the original server of AgustinongPinoy and Angfrayle. But the WWW knows how to keep its denizens well provided. And so I was able to put up the original HTML Tutorials section of AgustinongPinoy at another free server; the daily Bible journal has also been transferred to a Frihost server. This latter also hosts the old AgustinongPinoy blogs.
Right now, this main AgustinongPinoy site serves Glitches In Time, my photo Gallery, a series of articles containing some of my translations of the psalms, articles on Augustinian Values and subsequent updates. There is a fledgling website at AngFrayle's Otium Sanctum which I am maintaining with the use of a text-editor and PERL-CGI scripts which a lot of my contemporaries consider outdated. The website contains the notes I create when preparing an article or a school handout. It also serves as a reminder that a website can be maintained using the most basic of Content Management Systems. After all, what is important to the web is content; all the rest is eye-candy.
After eleven years on the web, I have learned to focus on just a few things to present. I still write my reviews on the software which I think others like me would find useful. And once in a while I still post a few pointers about the web and about the lingua franca of the web, HTML. But because of pastoral pressures, I have limited my output to practical guides on the reading of Scriptures especially as these are read in the Sunday liturgy. Commitment to the building-up of Basic Ecclesial Communities has been a big factor in this choice.