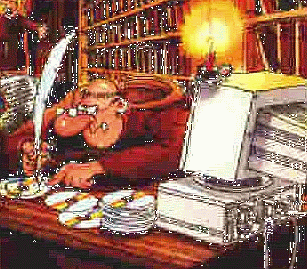 AgustinongPinoy has been on the web since August 28, 1999. Since then it has undergone several transformations most of them caused by the difficulty of getting a host that can provide the requirements of this website at a price that can be afforded by one who has no other business than to be a presence on the web that extends into it the unique characteristics of a Catholic and an Augustinian.
"Nihil humanum Christiano alienum puto" wrote Augustine several hundred years ago. "There is nothing human that is alien to a Christian." The web is as human as anything that human beings have been producing all these years. Some years ago, even John Paul II called the World Wide Web a new agora, and with enthusiasm called upon the Church to let the face of Christ shine through this virtual world.
Agustinong Pinoy has had the opportunity to be in the web all this time offering the only things that it can: the Catholic faith, Augustine and Scriptures.
When AgustinongPinoy began in 1999, its purpose was be a guide for the theology student of a particular Catholic University in the Visayas through the then already burgeoning number of web resources that cried out for recognition. But Catholic materials were hard to find. Fundamentalist viewpoints seemed to be everywhere. My perceived task was to create a resource page that could immediately bring the internet neophyte into grounds that can truly be useful.
The first resources that were uploaded into the Agustinong Pinoy website were a copy of the Catechism which was then still quite new, and a few articles that answered Fundamentalist accusations against the Catholic Faith. My articles on the "Rapture" and later on "A Response to a Catholic in Difficulty" were the first materials ever to be published by me under the category "Catholic Faith." But then, other needs began to crop up.
The introduction of the courses on St. Augustine at the University I was working in became a concern since the materials covered a lot and there was a scarcity of materials in the library that were attractive enough for both teachers and students. It was then that I started to discover how much of Augustine was already under discussion in the web. Contact with the different resouces on St. Augustine as found in the web and in our library during the time helped me write a brief article on the "Lectio Divina in St. Augustine." This was the first article on St. Augustine that appeared in the AgustinongPinoy website. After this, other brief articles followed on the topic of Scriptures.

It was from the year 2000 that I began submitting articles on Scriptural subjects. To complement what I was already doing for the Catholic Scripture Study at Suite 101.Com, I began writing daily bible reflections on the mass readings and posting them in a website at AngelFire. In addition to this, I was giving out tutorials on HTML for students and teachers who were interested to help me maintain the school website.

The discovery of Perl and PHP later allowed me to experiment with Content Management Systems. Content Management Systems allowed me to stop worrying about layouts and website appearance and concentrate on the content of AgustinongPinoy. Using NewsPro/Coranto, I began to write articles on Scriptures, answering Fundamentalists who made a claim to biblical orthodoxy. It was through PHP applications (GeekLog, WebMate, MyPHPBlog) that I began to engage in blogging — an exercise that I continue even now.
In recent years, two websites which were providing dynamic content to AgustinongPinoy had to be closed down because of the expense involved. A cheap webhost helped the AgustinongPinoy website extend its presence for another year. But it turned out this webhosting company was too paranoid about bandwidths and MySQL usage. In fact, during the past year, AgustinongPinoy was rendered inaccesible due to what was claimed as an infringement of good usage policy when Blogs.AgustinongPinoy began to have 6000 hits daily.
With the closure of Fil-Augustinians.Net and Esmeralda-PH.Com, a lot of the contents of AgustinongPinoy went down with them. And there were many of these resources that I wish I still had…
tips on HTML coding, javascripts and graphic embedding
experiments in XML embedding
answers to queries regarding the particular doctrines that this or that fundamentalist group is espousing
web brochures that countered fundamentalist accusations
serialized blogs that explained Catholic position on biblica texts
more blogs that linked to hard-to-find resources on the web,etc…
When the cheap webhost I was referring to closed me out the other day1, I only managed to salvage a few of the resources I have been working on these past months beginning July. The posts I made through ThingaMaBlog are still intact and are waiting to be republished. But the materials I used to have through "WordPress" and "B2Evolution" have become irretrievable. Unfortunately, these were stored in MySQL databases that I can no longer access because of the "lock out" (You know, "403 you are forbidden to access this website"). The Lectio Divina articles are still with me and will be reposted in an appropriate website2.
It is fortunate that I have been spreading some of my work in different websites so that not all that I've published have been affected and rendered inaccessible. With this new host I hope to extend the life of AgustinongPinoy for a few more years, Deo volente, and perhaps expand to other ways of helping people get into the unspoiled areas of the World Wide Web.
I wrote this article sometime in 2005. ↩
These are now at Res Biblica ↩